Valentine's Day – 14th February
Edinburgh might not seem as obvious a choice as a city of lovers as say Paris or Rome, but it has some serious romantic pedigree having hosted many famous fictional couples, from Outlander's Jamie and Claire to One Day's Emma and Dexter.
The city is filled with great places to go on a romantic stroll from the Old Town to the Botanical Gardens or you could wander up Calton Hill to watch the sunset over the city.
It also has lots of great places for couples such as the Dominion Cinema which has sofas to cuddle up on, and the New Town is packed with fantastic bars and restaurants where you can share some.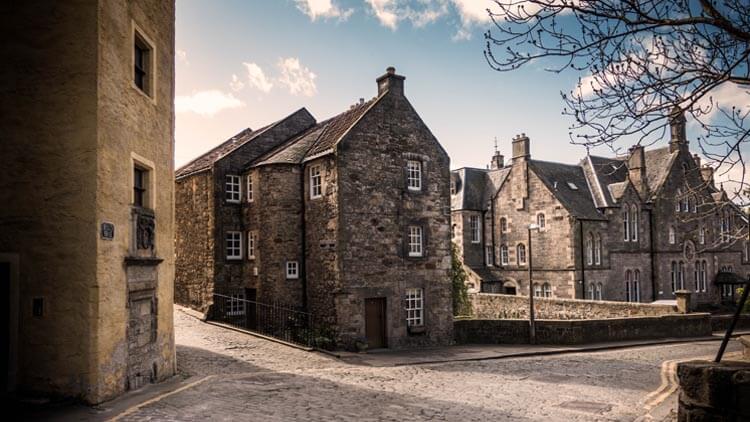 Beltane Fire Festival – 30th April
Beltane is an ancient Celtic festival that marks the start of Summer. Although it died out in Scotland over the nineteenth and early twentieth centuries it was resurrected in Edinburgh in the 1980s. The Beltane Fire Festival now takes place every year on Edinburgh's Calton Hill with a cast of hundreds, and thousands in attendance.
The modern Beltane is not intended as a pure recreation of the festival, but instead takes inspiration from several sources while remaining true to the spirit of Beltane. It centres on a grand procession of the May Queen and Green Man, which eventually leads to the lighting of a huge bonfire. It is an immersive experience of dance, music and pure spectacle and really not to be missed.
There is a similar celebration at the start of Winter, called Samhuinn, on the 31st October – Hallowe'en.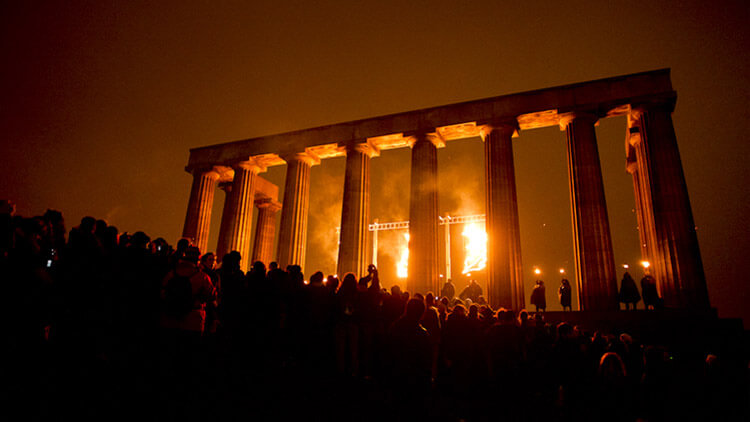 Festival Season – August
Edinburgh is packed with festivals in August. The originals are the Edinburgh International Festival, a celebration of high culture from across the world including classical music, opera and grand theatre productions, and the far more anarchic (and some would say more fun) Edinburgh Fringe. While the Fringe started as something of a side note to the International Festival, it is now by itself the largest cultural festival in the world over 3000 shows taking place and 2 million tickets sold each year.
The city goes wild during the festival: the high street is jam packed with street performers, almost every pub, bar, church hall is turned into a space for a show and every night there is a fantastic fireworks display from the Castle, courtesy of another Edinburgh August festival, the Royal Edinburgh Military Tattoo.
The Edinburgh festivals have helped to launch the careers of a wealth of British talent such as Rowan Atkinson, Billy Connolly, Craig Fergusson, Alan Bennet, Emma Thompson and Stephen Fry, so come and see if you can find some of the stars of tomorrow before they get too famous.
Christmas
Christmas was not celebrated by the Kirk (Church) of Scotland, and was hardly celebrated by Scots, well into the twentieth century. In recent years, however, there has been a big expansion in yuletide celebrations.
The centre of this is the fantastic Christmas market in Princes Street Gardens, with stalls selling mulled wine, Christmas knick-knacks and fairground games spilling out over several levels. The fairground rides installed for the season give a panoramic view over Edinburgh – along with something of an adrenaline rush.
Elsewhere, the Street of Light in George Street will dazzle you as over 60, 000 Christmas lights are synchronised to music.
If you are from outside the UK, you should also take the chance while in Edinburgh to go to one of the many pantomimes. A British tradition where a fairy tales are reinterpreted on stage, it's mainly aimed at children but can be enjoyed by all ages. They are rather hard to explain, but wonderfully silly and great fun to watch.
Hogmanay – 31st December
Although Christmas was barely celebrated in Scotland for hundreds of years, people were not really willing to give up their Christmas drinking, and so they merely moved it to the next available date which was New Year's Eve, or Hogmanay as it is known in Scotland. Scotland goes so mad for New Years that, unlike the rest of the UK, Scots get the 2nd January as a holiday as well as the 1st – that's how bad the hangovers are.
The official Edinburgh Hogmanay celebrations in Princes Street is one of the largest and best known New Year's celebrations in the world. However, there are fantastic parties all over the city that night – just make sure you are in a good place to watch the fireworks from the Castle at midnight.