The first thing you should keep in mind is the time of year you want to visit Edinburgh, since prices vary a lot. The times of low occupation in which a night can be a bargain and others in which finding a room can be a complicated task.
In August, room prices skyrocket because of the festival. If you are going to travel in those dates, we recommend that you book as early as possible.
Budget accommodation: Hostels
Budget accommodation in Edinburgh is synonymous of hostel. There are many and most of them offer an excellent service, especially in terms of common areas and activities.
1. Cowgate Tourist Hostel
96-112 Cowgate, Edinburgh EH1 1JN
0131 226 5716
If you are prepared to spend a little more and be central, this is a good place. Its greatest advantage, apart from its location, is that it will offer you a good degree of independence, as the building is divided into apartments with two or three rooms, two bathrooms and a kitchen in each of them.
If you like to spend time in the common areas of the hostel, maybe this isn't the hostel for you, but after all you may not miss them as you will find yourself in Cowgate, the heart of the Old Town.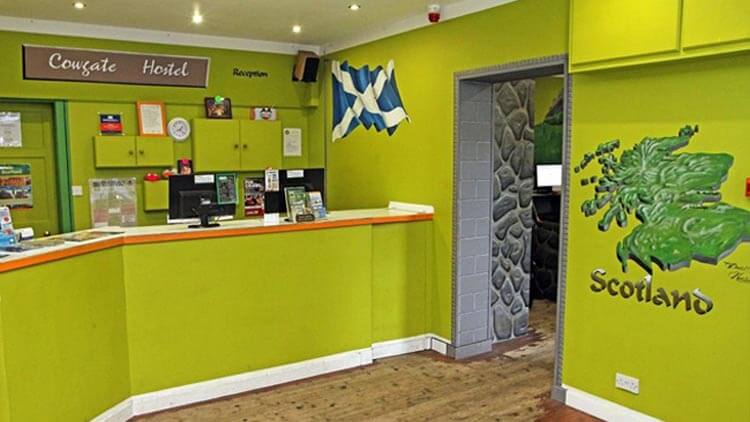 2. Kick Ass Hostel
2 West Port, Edinburgh EH1 2JA
0131 226 6351
Recently renovated, it is a very modern hostel located in the square of Grassmarket, with many pubs and restaurants around. You will have access to large common areas, with kitchen and billiards in the upper part and a coffee shop next to the reception.
The prices of the rooms are usually quite affordable, private rooms are a little more expensive, but still a great price.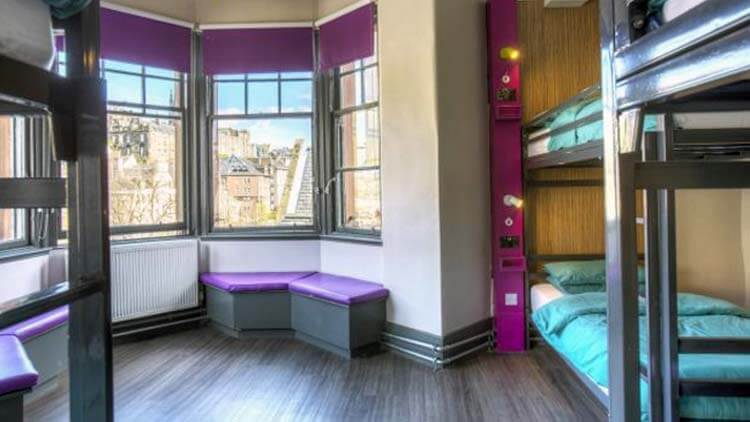 3. High Street Hostel
8-18 Blackfriars St, Edinburgh EH1 1NE
0131 557 3984
One of the best hotels in Edinburgh, located right next to the Royal Mile. You will be one step away from everything. The hostel is housed in a nice manor house, but do not let the exterior deceive you, inside it is fully renovated and very comfortable.
The best reason to choose High Street Hostel is the service and the good atmosphere at all times. You will also have a kitchen and common areas in which to relax.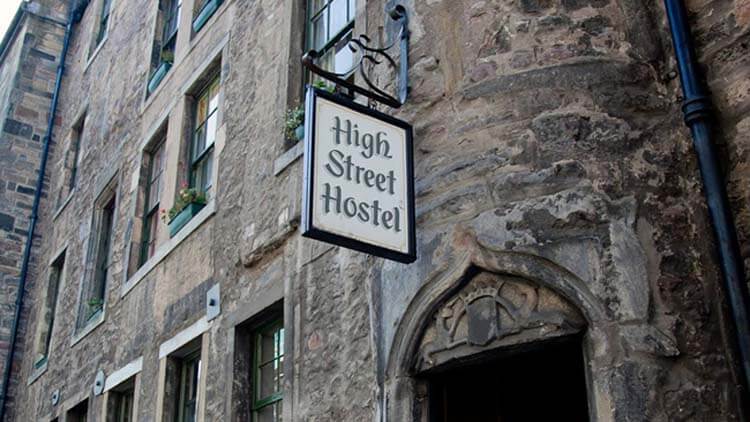 Accommodation average price
In this category you will find that most of the accommodations in the city are defined from modern to more traditional hotels. You'll have a lot to choose from.
1. Stay Central Hotel
139 Cowgate, Edinburgh EH1 1JS
0131 622 6801
Located in the heart of Cowgate, it is a 17th century building surrounded by the Three Sisters (one of Edinburgh's liveliest bars).
You will find this modern hotel comfortable and fully equipped, but still retaining some elements of this traditional site, such as access through a cobblestone square.
Its situation at the heart of Edinburgh's night scene makes it a perfect choice. If you want to have fun, this is your place.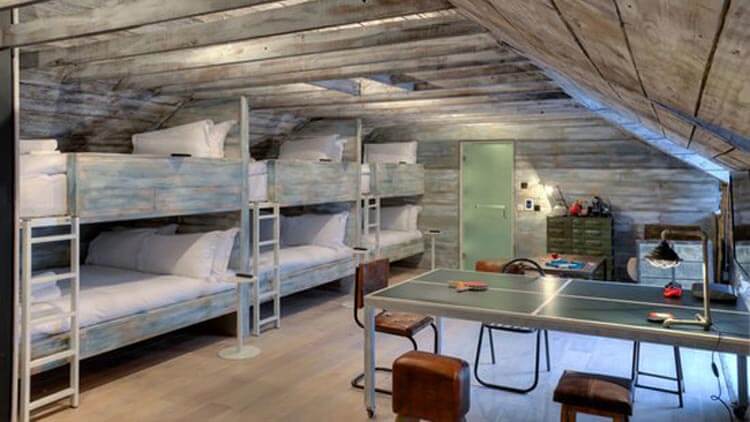 2. Grassmarket Hotel
94-96 Grassmarket, Edinburgh EH1 2JR
0131 220 2299
Walking along Grassmarket Square, like its name suggests, you will find a typical Old Town style building.
Don't worry, its interior has been completely renovated and it is very comfortable, with friendly staff that will make you feel like at home.
In addition, from the reception you will be able to enter Biddy Mulligans directly, without stepping on the street, one of the best pubs in Edinburgh, with live music every night.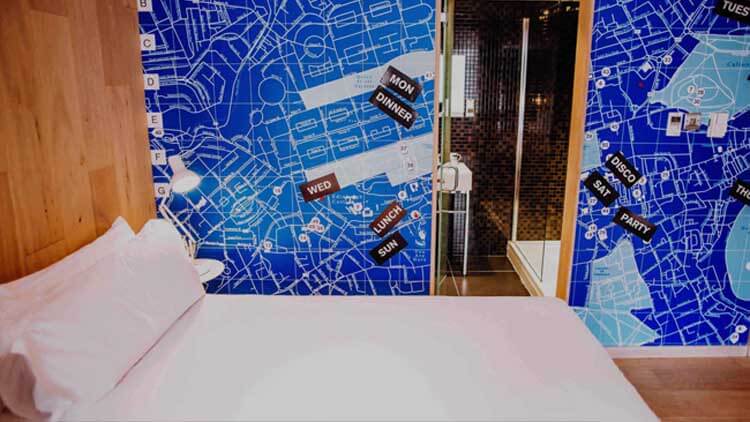 3. Mode Edinburgh
74 - 77 Queen St, Edinburgh EH2 4NF
0131 357 6500
This small, newly renovated hotel, has modern rooms within a neoclassical style building in the middle of the New Town.
The location is perfect if you want to tour the center of Edinburgh for the day and enjoy a quieter atmosphere at night. It offers a very friendly service and the attentive staff will make sure that you feel comfortable at all times.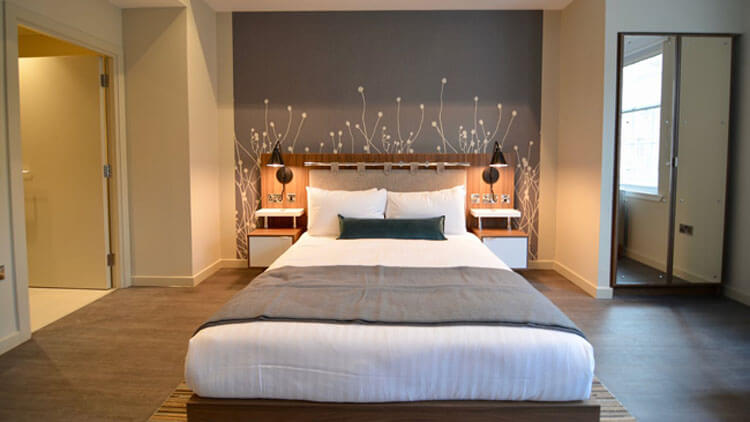 Luxury accommodation
If you are looking for only the best, any of the following hotels will offer you outstanding service, facilities and the best locations.
1. Balmoral Hotel
1 Princes St, Edinburgh EH2 2EQ
0131 556 2414
At number 1 on Princes Street, next to Waverly Station, the Balmoral dominates the New Town with its elegant clock tower which makes it one of the most luxurious and emblematic hotels in Edinburgh.
Not only will you enjoy first class service and incredible features, but you will be staying in one of Edinburgh's most iconic buildings with fantastic views too.
Your stay here will be pure luxury. You also have a Michelin Star restaurant inside the hotel.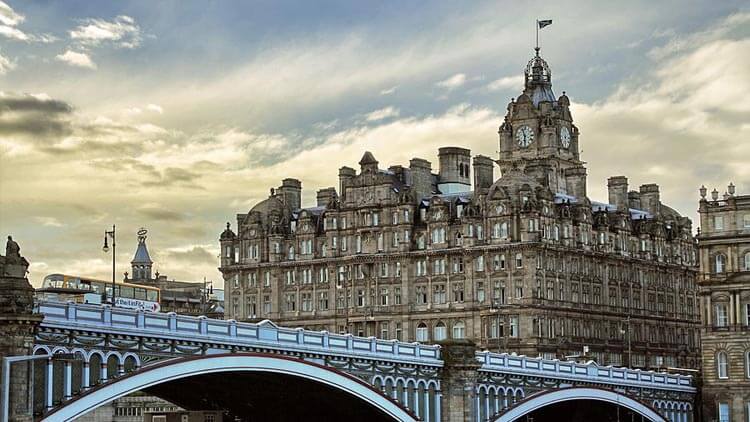 2. Radisson Collection Hotel
1 George IV Bridge, Edinburgh EH1 1AD
0131 220 6666
In a privileged location, at the intersection of two of the most representative streets from the Old Town, this boutique hotel offers first class service.
Because of its location, you will be able to explore the city from a privileged situation. Views are spectacular.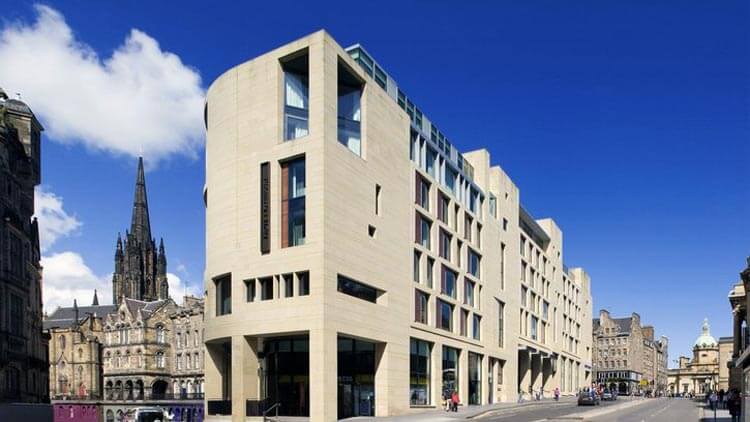 3. Waldorf Astoria – The Caledonian Hotel
Princes St, Edinburgh EH1 2AB, UK
0131 222 8888
Located in an old train station, from this luxury hotel you will enjoy elegant rooms with magnificent views, some of them to Edinburgh Castle.
It has a luxury French restaurant, beauty salon, spa, pool or sauna. And also special rooms for private events for up to 300 people.