Fashion brands in Princes Street
Princes Street is the city's major shopping street, built on only one side to leave uninterrupted views of the Old Town on the other.
Here, are all the popular high street brands, including Topshop, Marks & Spencer, Zara, and Primark. Take a look up neighbouring Hanover Street, Frederick Street, and Castle Street for even more recognisable names.
As well as clothing, there's the Apple Store, Waterstones, Lush, The Body Shop, and numerous others. Don't forget to stop into Edinburgh's most famous department store, Jenners!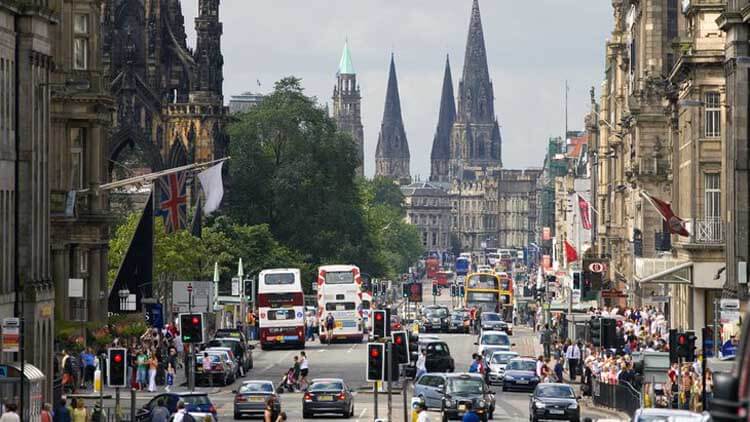 Fashion firms in George Street and Multrees Walk
Running parallel behind Princes Street is George Street, housing some of the more upmarket brands, including Hollister, Jack Wills, Karen Millan, and Anthropologie.
Follow the street to the other side of St Andrew's Square to reach Multrees Walk, where many designer brands have their Edinburgh stores, including Burberry, Louis Vuitton, Tommy Hillfiger, and Scotland's only Harvey Nichols store, home to even more designer names.
Buy souvenirs in the Old Town
Head up to the Old Town, where the Royal Mile has souvenir shops in abundance! There's also several tartan and cashmere shops, ranging in price and quality, with places like Ness, Marchbrae, and Elgin Cashmere.
Whisky can also be found in abundance here, including the Scotch Whisky Experience on Castlehill, and Royal Mile Whiskies on the High Street. Another fun place to visit is Ye Olde Christmas Shoppe, on Canongate, which celebrates Christmas year round!
Edinburgh's most unusual specialist shops
For some more unusual shops, venture down Victoria Street, which was the inspiration for J.K. Rowling's Diagon Alley, and now boasts a Harry Potter themed shop.
There are lots of independent retailers here, selling everything from clothes to books to gifts and jokes, and you'll be amazed at some of the treasures to be discovered.
Continue to Grassmarket to visit Armstrong's Vintage Emporium, Hawico Cashmere, and Walker and Slater's tweeds, as well as dozens of historic pubs, and delicious treats in Mary's Milk Bar.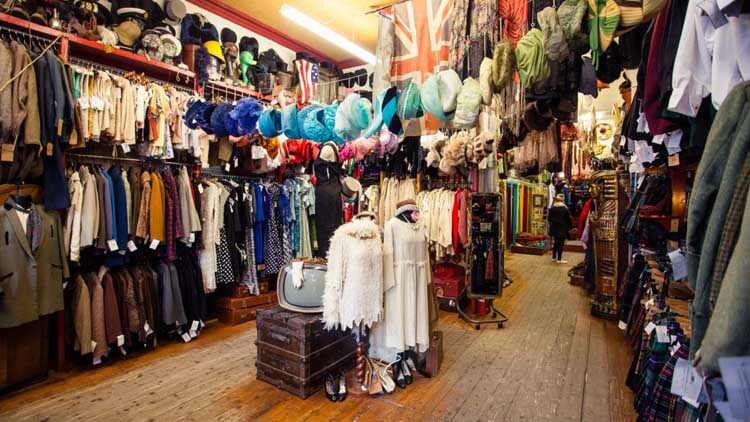 Independent retailers in Stockbridge
Stockbridge is the place to visit if you're looking for anything arty or crafty, with its selection of independent retailers. This affluent area of the city is full of jeweller's, art galleries, vintage clothing and records, and second hand shops.
The Stockbridge Market, open every Sunday, is also a fantastic choice to find fresh, local, and artisanal food and drinks.
Shopping centres around Edimburgo
There are also numerous shopping centres around the city, housing a range of high street, upmarket, and independent brands.
Some of the biggest are Ocean Terminal, in Leith; The Gyle, located just west of the city; Fort Kinnaird, an outdoor retail park in the south east; and the Waverley Mall, found on Princes Street next to the train station.