Whether it's the most famous national dish of haggis, neeps and tatties, or other options such as porridge (for breakfast), Scotch broth, Aberdeen Angus beef, smoked Scottish salmon, or desserts and confectionary like cranachan or shortbread, you can find it all in Edinburgh.
You won't be short of restaurants to choose from throughout both the Old and New Towns, serving a variety of traditional fare, ranging from historic pubs, to more modern, upmarket establishments.
1. The Gardener's Cottage
1 Royal Terrace Gardens, London Rd, Edinburgh EH7 5DX
0131 677 0244
You can enjoy a unique dining experience in the cosy, atmospheric setting of The Gardener's Cottage. The small, stone cottage dates from 1836, and was originally home to the gardener for Royal Terrace, as the name suggests.
You will dine at two long tables, each seating ten people, for an intimate, communal dining set up. You can choose from an à la carte lunch and weekend brunch menu, including the option of a full cooked Scottish breakfast, or a stunning seven course, set dinner menu.
The menu offers you an elegant selection of dishes, updated regularly to reflect the seasons, and you will enjoy sustainable, locally sourced produce, including vegetables from their own garden at the front of the cottage, and many other classic Scottish ingredients.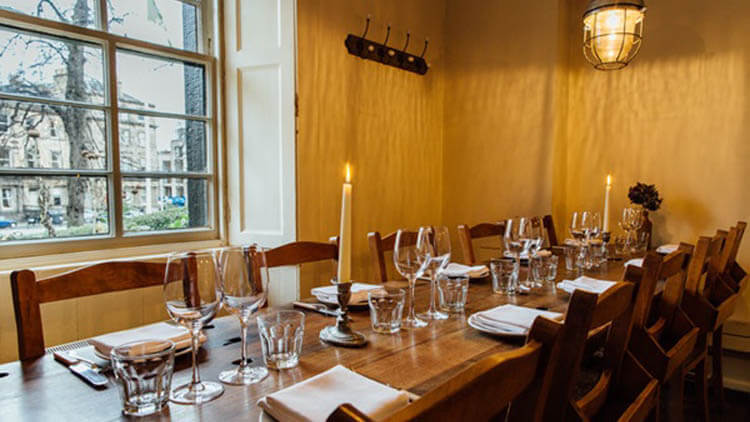 2. The White Hart Inn
34 Grassmarket, Edinburgh EH1 2JU
0131 226 2806
You can try haggis in many places in Edinburgh, but the White Hart Inn is a particularly good choice, for a few reasons. It claims to be the oldest pub in Edinburgh, dating back over 500 years to its establishment in 1516.
Many famous historic figures have stayed at the Inn, including English Civil War leader Oliver Cromwell, poet William Wordsworth and even Robert Burns himself, on whose birthday Scots traditionally dine on haggis as part of a Burns Supper.
You can choose from two available options for the haggis dish, the full version for £10 or a smaller version as a starter for £5, if you only want to try a little! You can also attend their regular Scottish folk music nights, where you can experience even more traditional culture.
And, like many other pubs in Edinburgh, it is said to be haunted, so keep an eye out for ghosts while enjoying your dinner!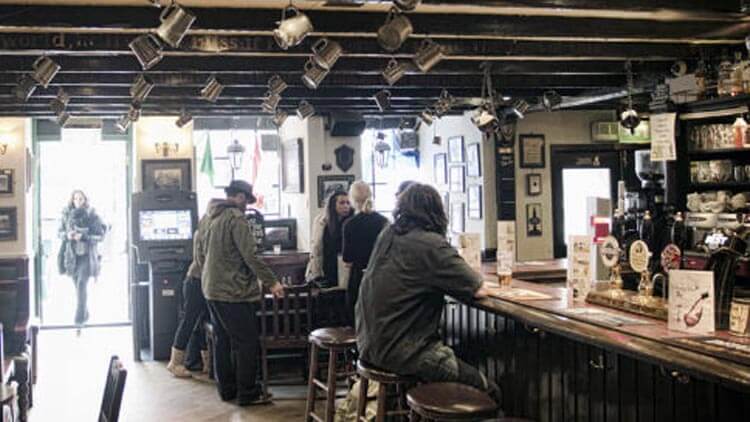 3. Angels with Bagpipes
343 High Street, Edinburgh EH1 1PW
0131 220 1111
Located in a 16th century building on the Royal Mile, in the heart of Edinburgh's Old Town, you will certainly feel like you're surrounded by Scottish culture in this fine dining restaurant.
It is a mix of old and new though, as you'll notice its historic location is balanced alongside contemporary, elegant decor, lit by angel candlesticks, proving that Edinburgh can provide the best of both.
You will be served a seasonal selection of fresh, local ingredients, with an elegant, modern twist on traditional Scottish dishes. You can order from the à la carte menu, or try the set, 4 course, tasting menu, with the option of wine pairings, for a little bit of a few different dishes, to see what you like best.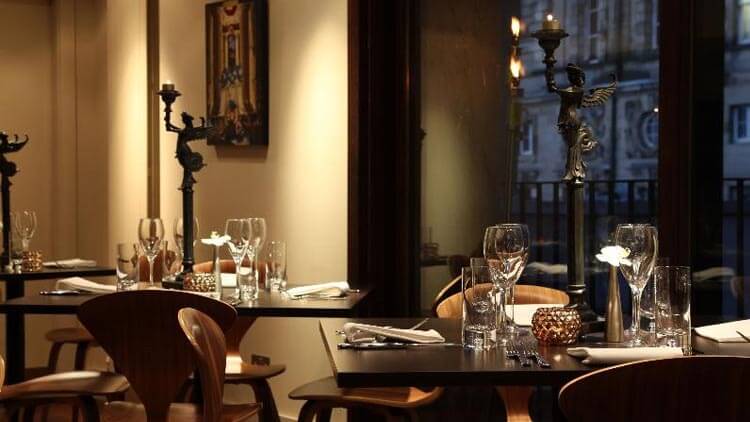 4. The Whiski Rooms
4-7 North Bank Street, Edinburgh EH1 2LP
0131 225 7224
Whiski Rooms, as the name suggests, is a highly recommended choice if you wish to sample some whisky alongside their meal, as they have over 300 to choose from!
As well as the restaurant, you can also visit their bar and shop, where they offer special whisky tasting experiences.
In the restaurant itself, you will be seated in a cosy bistro, overlooking the New Town from the top of the Mound, with wooden furnishings and exposed stone walls, to match the historic style and spirit of the Old Town, where it is located.
You can choose from a lunch and dinner menu, full of hearty and traditional Scottish dishes, and your food will have come from local suppliers, with the menu changing regularly to reflect what is available in each season.