Why Linlithgow?
Edinburgh is, undeniably, a great city - so great, in fact, you may wonder why you would ever want to leave.
Linlithgow is a lovely Scottish town, about twenty minutes travel from Edinburgh, complete with a loch and the ruins of a royal palace.
The town is the birthplace of Mary Queen of Scots, possibly Scotland's most famous monarch, whose life was filled with tragedy. If that's not enough of a draw for you, it's even in the town's motto that they are "kind to strangers."
How to get there
Trains run directly from Edinburgh's two main stations, Waverley and Haymarket, at intervals of fifteen to thirty minutes.
Waverley is right in the heart of the Edinburgh New Town, with Haymarket being further over in the western end of the city. The journey takes around twenty minutes and a return adult ticket will cost you approximately £10.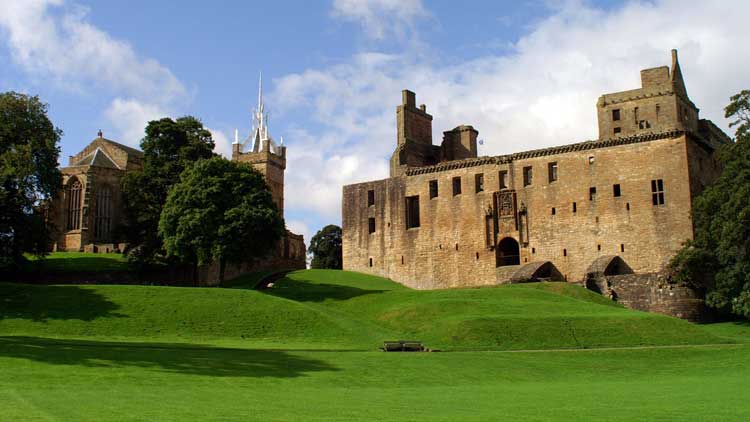 What to do
The unmissable attraction of the town is, of course, Linlithgow Palace. The oldest part of the palace started construction in the early 1420s under King James I and was repeatedly expanded by a succession of Scottish kings.
It is now perhaps most famous for its connection to Mary Queen of Scots, the famously beautiful queen whose rule was dominated by political and religious division, as well as deeply troubled personal life.
Just one example of this was that her second husband, Lord Darnley, murdered her private secretary in front of her because he thought their friendship was too close. Mary was herself later implicated in Darnley's murder.
She was eventually forced to abdicate, and fled to England to take refuge with her cousin, Elizabeth I. Instead of protection, however, Elizabeth imprisoned Mary for twenty years before executing her.
Mary's life has gone on to inspire a wide range of books, films, plays and even a popular ongoing TV drama called 'Reign'. It all started, however, in this palace.
While the Palace declined in status after the royal court moved from Edinburgh to London, it still continued to entertain guests of high status.
In 1745 the rebel leader and claimant to the British throne, Bonnie Prince Charlie visited the palace. The fountain in the palace courtyard, which stands there to this day, was said to run with wine in his honour.
The next year, however, large parts of the palace were destroyed by fire. While much of the interior was destroyed most of the structure remains and you can still climb to its highest towers for beautiful views over the adjacent loch and the town of Linlithgow.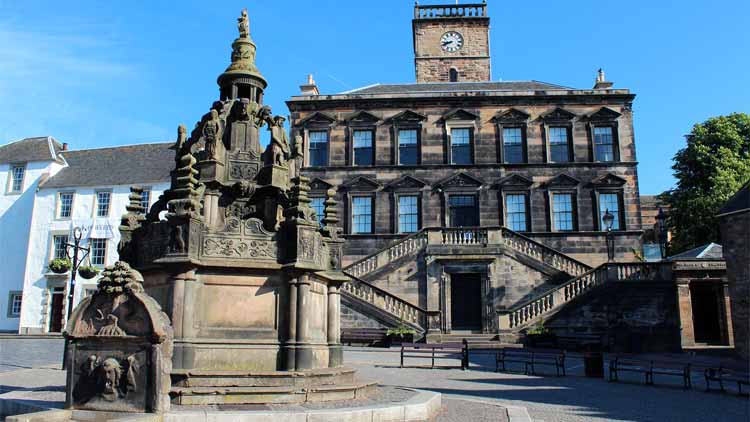 Although best known for the palace and loch, Linlithgow also has some really charming shops. If you like reading you should visit Far From the Madding Crowd, a bookshop on the High Street.
They specialise in Scottish and Children's books, but even if those aren't for you this shop has such a nice, friendly atmosphere you're sure to walk away with at least one purchase.
If you fancy picking up something sweet then head just a little way down the High Street to A Wee Mindin, a traditional sweet shop, filled with delicious treats you won't find in the supermarket. They also have a wide range of Scottish themed gifts to buy for your loved ones (or yourself).
If you want to see the town from a slightly different perspective take a boat trip from the Linlithgow Canal Centre. A half hour journey costs just £4 for an adult, and trips run every afternoon for most of July and August, and on weekends between April and September.
To find out more about the history of this town, and the ordinary people who lived here, as well as the Kings and Queens, you can go to the Annet House Museum on the High Street.
Where to eat
You'll find yourself spoiled for cute cafes to eat lunch in. One of the best is Brodie's, a vintage teashop on the High Street.
Alternatively you could try the Linlithgow Burgh Halls, a space which now has both an art gallery and café. If you're staying in Linlithgow for dinner we'd recommend heading to one of the many pubs for some food. You might want to try the recently opened bar, 1807 on the High Street who do a great selection of meals.
If you're looking for a quick break from busy city streets, but still want to go somewhere steeped in Scottish history, Linlithgow may be the perfect place for you to take a day trip to.