Why North Berwick?
For quite a small town, North Berwick is absolutely packed with history. Most famously, the St Andrew's Auld Kirk is the site where dozens of Scottish witches supposedly met with the devil himself to try to bring down a curse on the King of Scotland at the time.
Rumours of the event led to a panic about the threat of witchcraft to the country and thousands of executions over the next eighty years. (If you want to find out more about this history of witchcraft in Scotland, come on our Free Ghost Tour).
If that doesn't take your fancy there are lots of other fantastic things to do including boat rides in the Firth of Forth, lovely beaches, a golf club in the town centre, a hill with a fantastic view over the Lothian area and a ruined castle dramatically perched on a cliff edge.
How to get there
Trains run directly from Waverley, Edinburgh's central railway station, at hourly intervals. The journey takes twenty five to thirty five minutes depending on the train.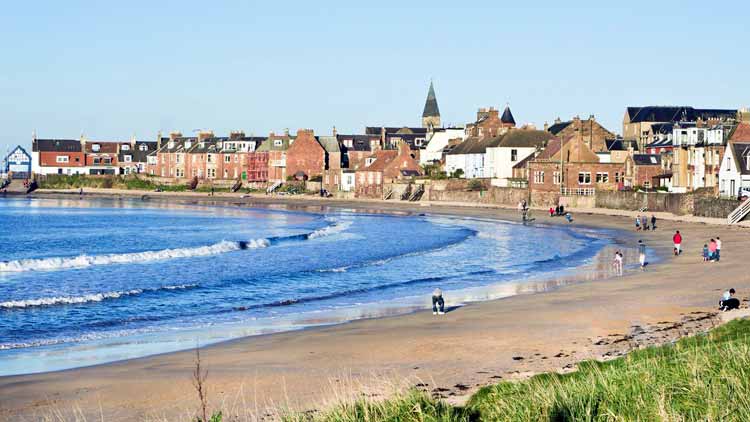 What to do
North Berwick is a place where you can really get a closer look at Scotland's natural environment. If you have some money to spare, we recommend going down to the Scottish Seabird Centre and taking their Seabird Catamaran Cruise or Three Islands Seabird Safari.
An adult ticket costs about £20 but it allows you to get up close and personal with a lot of Scottish seabirds, including sailing by the Bass Rock.
The Bass Rock is a small, completely uninhabited island – except, that is, for the roughly 150, 000 gannets that call it home. In the 1600s it was used as a prison (being surrounded by constantly screeching birds presumably added an extra misery to the inmates' experience).
Sailing times are pretty irregular so it's worth checking their website and booking in advance. The Scottish Seabird Centre is, conveniently, right next to the remains of the church where the famous meeting of witches supposedly took place.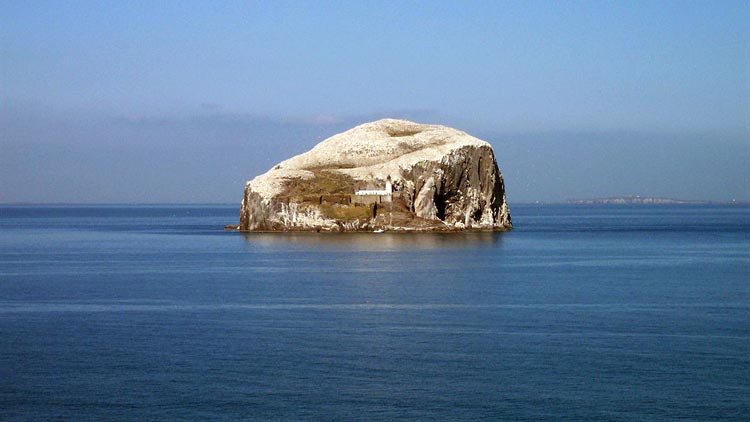 If you don't fancy splashing out on a boat trip you can still get a bit of Scottish nature by climbing the North Berwick Law, a hill about a twenty to thirty minute walk south of the town centre.
The Law is notable because the countryside around it is almost completely flat, meaning you get a fantastic view for miles around (it is also rather noticeable from high points in Edinburgh, such as the castle and Arthur's Seat, where it is a single bump in the flat landscape to the East of Edinburgh).
Due to how noticeable it is, it has long been an important spot. There are remains of an Iron Age fort and lookout points from both the Napoleonic Wars and World War II. The top of the hill is crowned by a whale jawbone (made of fiberglass), the most recent in a line of whale jawbones that have stood on top of the hill since 1709.
Tantallon Castle
After grabbing some lunch from one of the many seaside cafes, get on the bus to Tantallon Castle. (It's a very pretty walk if you fancy it but does take about an hour). The bus you want is the number 210 run by Eve Coaches. It's a long wait in between busses so make sure you plan when you want to get it.
Check their website to get an up-to-date schedule, but at the time of writing you can get busses from the Seabird Centre to the Castle at 11.33am, 1.33pm and 3.18pm. It's about a six-minute bus journey. You can get a bus directly back to train station at 1.07pm, 2.55pm and 4.37pm.
Tantallon Castle was built in the mid-1300s. It had quite a rocky history, often being held by enemies of the country's rulers, who were branded as troublemakers and traitors. It was put under siege by both James IV and James V in the late 1400s and early 1500s. However, it was only finally fatally damaged by the forces of Oliver Cromwell in the mid-1600s.
Apart from all its history, it is absolutely stunning to look at – still an imposing façade after nearly 700 years, its perilous closeness to the edge of the cliff only adding to the effect. You'll want to put aside a good while to wander round its winding staircases and take plenty of photos – they'll be so gorgeous you won't even need a filter.
So: castles, witches and wildlife. What are you waiting for? Go and take a trip to North Berwick.