On Burns Night (the annual celebration of our most famous poet, Robert Burns) Scots will, almost without exception, tuck into a 'Burns Supper' – a meal of haggis, neeps (turnips) and tatties (potatoes). Burns is so strongly connected to haggis because one of his most famous poems, from where the quote in the title comes, is essentially a love letter to the food, and many Scots are just as passionate about it as Burns.
Most people from outside Scotland are not entirely sure what a haggis actually is. Scots will occasionally attempt to pull a good-natured prank on visitors by trying to convince them that a Haggis is actually a small animal that roams the Scottish Highlands, with one leg shorter than the other so that it can run round hills more easily. In fact, Haggis is actually sheep's lung, heart and liver minced up with onion, oatmeal, fat and spices and stuffed into a sheep's stomach to be cooked or, more commonly now, some sort of less grisly casing.
This may sound rather unappealing to you, and you wouldn't be the only one. Haggis has actually banned in the United States since the 1970s because it is illegal to make food for human consumption using sheep's lungs. Don't worry though – haggis is definitely not a dangerous foodstuff, and, when cooked well, is delicious.
If you still don't fancy it, most places serving a traditional Burns Supper will also serve vegetarian haggis. It is just as much 'real' haggis and even the most ardent meat eaters sometimes find they actually prefer the flavour of the vegetarian option.
Here is our selection of Edinburgh's best restaurants for a full Burns Supper of Haggis, Neeps and Tatties.
1. White Hart Inn
34 Grassmarket, Edinburgh EH1 2JU
0131 226 2806
There are dozens of places to get a good Burns Supper in Edinburgh, but there are some particularly good reasons to pick the White Hart. It is a pub with a long history, possibly Edinburgh's oldest, dating back half a millennium to 1516. It has hosted English Civil War leader Oliver Cromwell, poet William Wordsworth and, most appropriately, Robert Burns himself.
Additionally, you can choose whether to have a full haggis supper for £10, or to have a miniature version for just £5 as a starter to see whether you like it. They also frequently have Scottish folk music nights, so you can really get absorbed into traditional Scottish culture.
Like many Edinburgh pubs, it is said to be haunted, which gives a little spooky twist to your meal.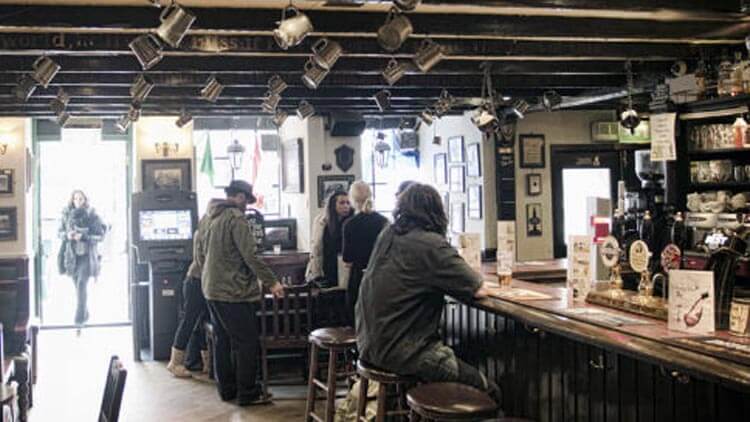 2. Wildfire
192 Rose St, Edinburgh EH2 4AZ
0131 225 3636
This very small restaurant located in the New Town is elegant, very cozy and with a fireplace. Wildfire's speciality are meats and of course, they offer some of the best haggis out there.
It is essential to book before going, it has very few tables and it is almost always full. It is definitely worth it, the treatment and quality of the dishes is beyond good.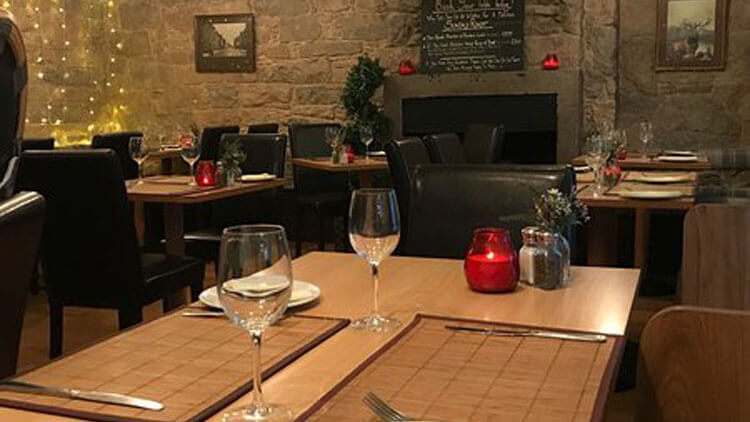 3. The World's End
2-8 High St, Edinburgh EH1 1TB
0131 556 3628
One of the most notorious pubs in Edinburgh, The World's End is cozy and has a real traditional Scottish atmosphere. Here you will find the most typical dishes being served and, of course, some fantastic haggis, some of the best in Edinburgh.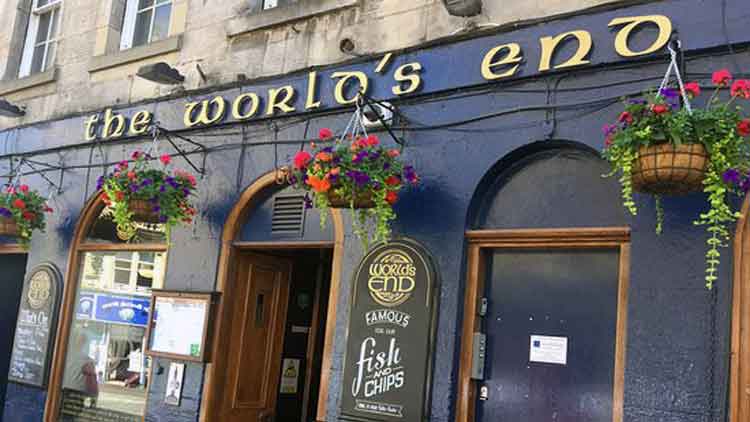 4. Deacon Brodie's Tavern
435 Lawnmarket, Edinburgh EH1 2NT
0131 225 6531
Another of the best known places on the Royal Mile. Not only for the reminiscences of the name, which refers to one of Edinburgh's best-known celebrities, but for his traditional food at a fair price and spacious and comfortable dining room. Just two minutes walking distance from the Castle.
They prepare the haggis in different ways and they are all very good. In addition, it has a good variety of beers and whiskies to accompany them. Good option if you are in the centre.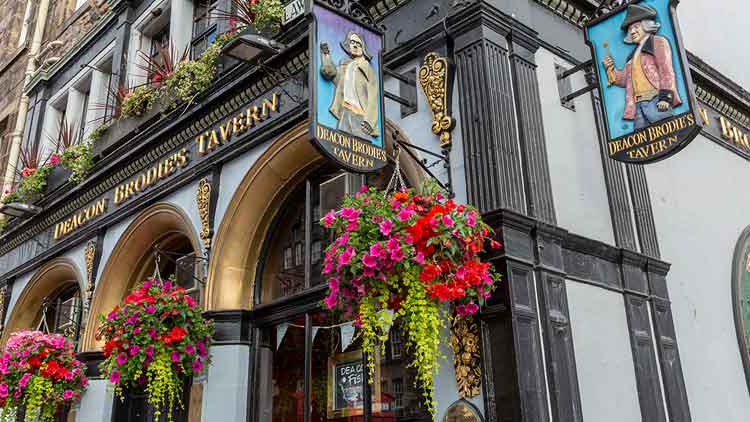 5. Copper Still
154 High St, Edinburgh EH1 1QS
0131 220 2111
If you want to try one of the best haggis in Edinburgh near the Royal Mile and without overpaying, Copper Still is your place.
You can choose from several different haggis options and accompany them with their broad selection of Scottish whiskeys. If you consider yourself a beer lover, you will get the chance to try some of the most typical local varieties.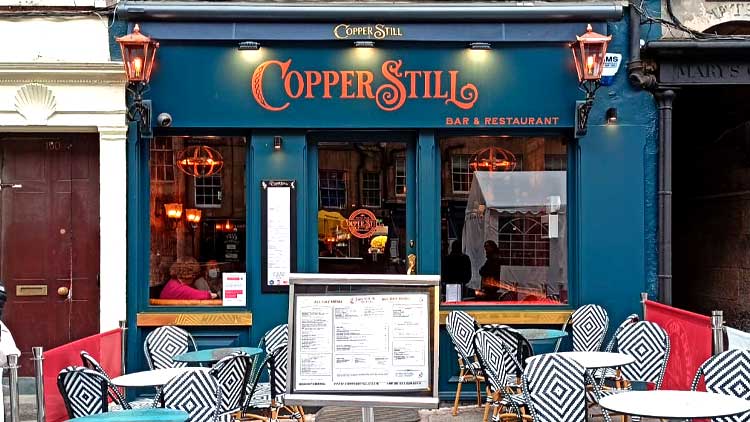 If you don't fancy a full Burns Supper, though, there are lots of other great alternative ways to try Haggis in Edinburgh. Here is our favourites.
An Italian Twist: Mamma's, Grassmarket
28 - 30 Grassmarket, Edinburgh EH1 2JU
0131 225 6464
Mamma's is a cosy Italian in Edinburgh's Grassmarket. There you can tuck into what they call a 'Scotsman Pizza', which is topped with Haggis, Potatoes, Onions and Mushrooms. It's not the only unconventional pizza on their menu. They also offer one called the Cheese 3PO, topped with Cheddar, Mozzarella and Swiss cheese, a reference to the famous robot from Star Wars, C3P0.
It may seem an odd thing to reference in restaurant far, far away from the glittering galaxy of Hollywood stars, however the man who started Mamma's Pizza actually appeared in the first ever Star Wars film. Andrew MacInnes was in his 20s when he appeared as Gold Leader in Star Wars: A New Hope. Eight years later he moved to Scotland from Canada and, with his wife, opened Mamma's. He clearly hasn't forgotten his intergalactic routes though.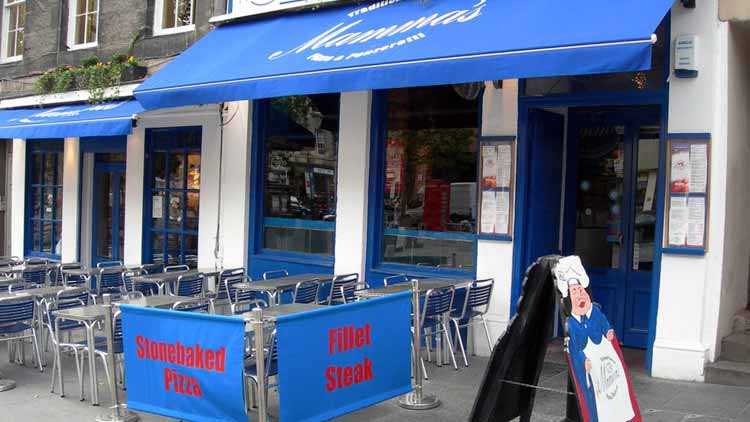 Or a Mexican one: Bonnie Burrito, Lauriston Place
39x Lauriston Pl, Edinburgh EH3 9HA
0131 662 0007
Bonnie Burrito is a food truck that that serves fuision Scottish-Mexican cuisine – which apparently is a thing. They offer delicious Haggis filled burritos for around £5. If you feel you want an even more Scottish burrito you can add pulled pork cooked in Irn Bru for free.
Irn Bru is often described as 'Scotland's other national drink' (the other being whisky, obviously). Its popularity is such that Scotland is one of very few countries where something other than Coca Cola or Pepsi is the best-selling soft drink.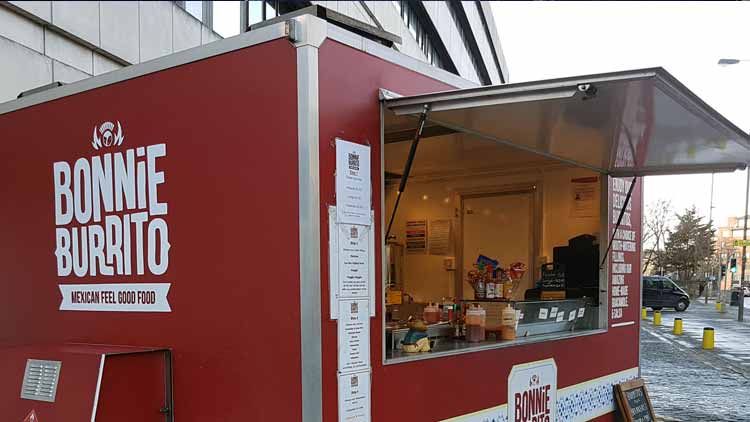 Or just as a burger: Holyrood 9a, Holyrood Road
9a Holyrood Rd, Edinburgh EH8 8AE
0131 556 5044
Haggis burgers are fairly common in Scotland, but the ones at Holyrood 9a are truly something special. Utterly delicious, especially with the wide selection craft beers, both local and international, available here. They offer their beers in regular pints and half pints, but also one third pints to allow you to taste lots of different ones without breaking your wallet.