You can choose from many options, including classic poached egg meals, sweet treats, like pancakes and French toast, or healthy dishes and smoothies.
Better yet though, you can take the opportunity to sample a full, cooked Scottish breakfast, complete with bacon, eggs, sausages, haggis, tattie scones, and plenty more!
Here are some of the best breakfast menus in Edinburgh.
1. Copper Still
154 High Street, Old Town
0131 225 7064
If you want to try the classic, cooked Scottish breakfast, there's no better place to do so than a traditional style pub, right in the middle of The Royal Mile. You will truly feel like you're in the heart of the Old Town, with its traditional, cosy wooden furnishings inside.
Try the classic fry-up with bacon, sausage, and eggs, found throughout the UK, or go really local and try the Scottish version, with added haggis, tattie scones, and black pudding!
The menu also includes porridge, scrambled eggs, pancakes or French toast, so you won't be lacking options! The filled breakfast rolls are also a great alternative, if you don't want a big breakfast or you're in a hurry.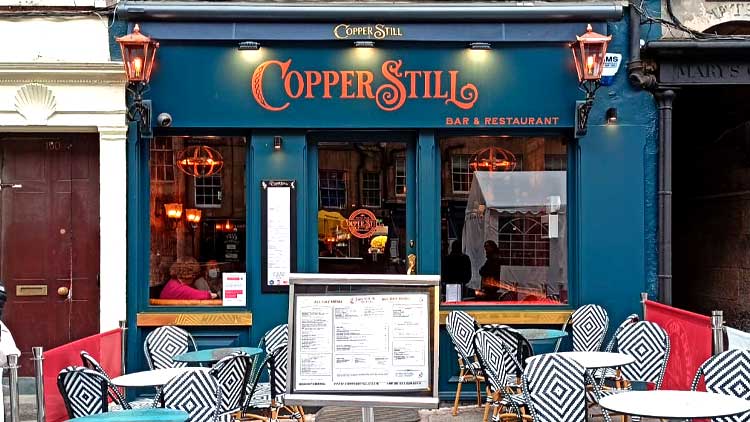 2. Mimi's Bakehouse
63 Shore, Leith / 277 St John's Road, Corstorphine / 250 Canongate, Old Town
0131 555 5908
As you're wandering Edinburgh's streets, you may come across one of the three branches of Mimi's. It's a family-run bakery, and a firm favourite of many locals in Edinburgh.
Although their array of cakes and afternoon tea options may catch your eye at first, you should also stop by in the mornings to try their breakfast menu, available until 12pm each day.
In their Old Town venue, the 'Little Bakehouse', you can try their delicious, traditional porridge and breakfast bagel options. However, if you make it down to their original bakehouse in Leith, you can choose from the full menu, with everything from cooked savoury breakfasts, French toast if you want something sweet, or several healthier dishes.
You'll be well catered for if you're vegan or gluten-free too, with plenty options for both, all at very affordable prices!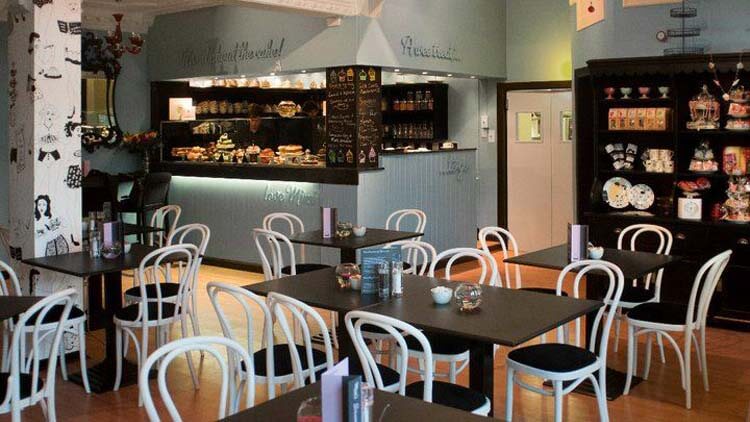 3. The Edinburgh Larder Cafe
15 Blackfriars Street, Old Town
0131 556 6922
This bright and cheery cafe is sure to get your day off to a great start. Here, your breakfast will be homemade by the dedicated team of friendly staff, and sourced from local, artisanal suppliers, making the most of Scotland's 'larder' of ingredients.
The breakfast menu includes all the classics, such as a full cooked breakfast, or a hearty bowl of porridge. Or, you can take the opportunity to sample some of their more unique dishes, including kedgeree (rice, smoked haddock, poached egg), or Scotch pancakes, which are slightly different to those you may have had elsewhere!
The menu is also changed regularly to reflect the seasons, so you can try something new on every visit!
4. The King's Wark
36 Shore, Leith
0131 554 9260
You should definitely check out the many amazing restaurants located in Leith while visiting Edinburgh, but if it's breakfast in particular you're looking for, The King's Wark should be your destination of choice!
This inn was built in the 15th century, and maintains its traditional style with stone walls and dark wood furnishing, but the menu is a modern gastro-pub, serving up a range of delicious dishes.
You can only get their breakfast menu on Sundays, and it's best to book in advance or get there early, as it's very popular - which says a lot about the quality of meal you'll be treated to!
Their cooked breakfast is the top choice, with every Scottish ingredient you could want, at a very reasonable price, but there are plenty of alternatives to suit all tastes.