Edinburgh bus operators
There are two major bus companies in Edinburgh, Lothian Buses and First Bus. You are more likely to use the former during your visit, as it has the more extensive network of routes throughout the city centre.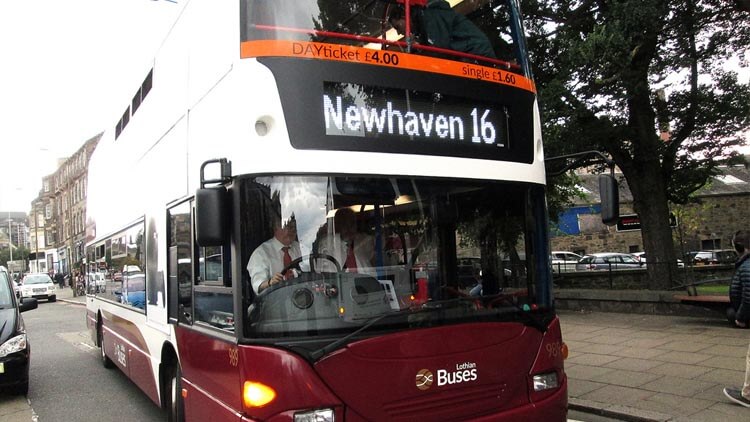 Both companies charge the same fares, but your tickets are not transferable between the two. If you wish to purchase a day ticket, or multiple day tickets, it's recommended to use Lothian Buses, since they have more routes.
You can pay for tickets in cash when boarding the bus, by depositing the money in the box next to the driver, but be aware that exact change is required, as the drivers have no access to cash and are unable to give back change. Paying by card is also possible.
You can also use mobile tickets, on the Transport for Edinburgh phone app, or a top-up 'citysmart' card, which you can purchase in the Lothian Buses Travelshops. For longer visits to Edinburgh, you might like to get a 'Ridacard', which you pay for in advance, and it is valid for 1 week, 4 weeks, or 1 year.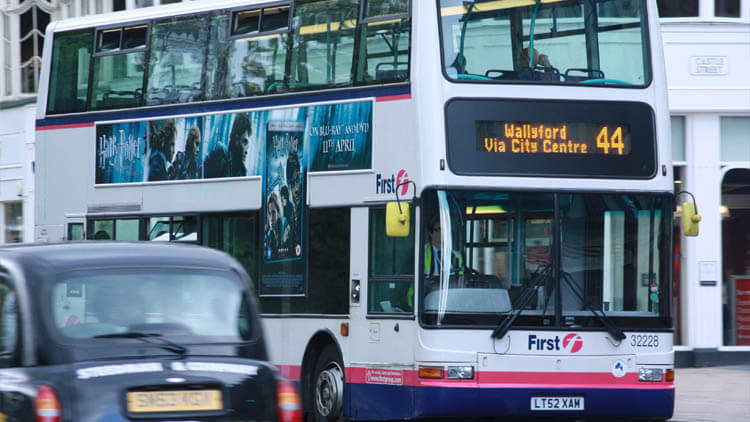 You can catch buses at regular intervals throughout the day, though they are less frequent in the evenings and on Sundays. You can also use the Night Buses, which require a higher fare, and run once an hour between midnight and 4.30am. Most bus stops have an electronic screen, where you can see how many minutes until the next bus arrives.
All buses are wheelchair accessible, and have a designated space for them on board.
Bus Tariffs in Edinburgh
Single ticket
Adult: £1.80
Child (5-15 years): £0.90
Day ticket (also valid on the tram, except to the airport)
Adult: £4.50
Child (5-15 years): £2.20
Family Day ticket (also valid on the tram, except to the airport)
Up to 2 adults and 3 children: £9.50
Night ticket (valid between 6 pm and 4.30 am, also valid on the tram except to the airport)
Adult: £3
Airport Buses
You can travel from the airport easily, by using the Airlink 100 Express Bus, the most direct route to the city centre, terminating at Waverley Bridge. Your journey will take about 25 minutes, as it is an express route, only stopping at limited locations, including Princes Street and Haymarket.
You can purchase tickets at the airport from a counter next to the bus stop, or on board from the driver at any other stop. Unlike the other Lothian Buses, drivers are able to give back change if required. You also have the option of purchasing an open return ticket for this service, valid for use on different days.
This bus runs 24 hours a day, but is less frequent through the night (0.00-4.30am)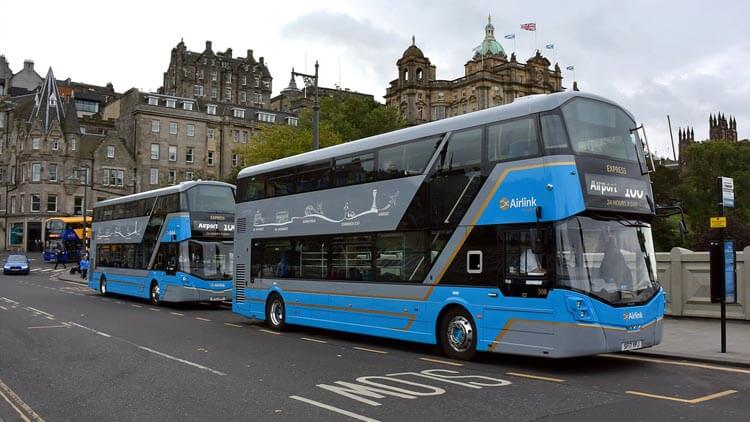 Airlink Bus 100 tariffs:
Airlink Bus 100 tariffs:
Adult: £4.50 single/ £7.50 open return
Child (5-15 years): £2 single/ £3 open return
Other airport bus services
You can also use the two other airport bus services, the Skylink 200 and Skylink 300, which connect the airport to other areas of Edinburgh; the 200 covers North Edinburgh, and the 300 covers West Edinburgh, both terminating in Leith. You will pay the same fare as the Airlink 100, but these routes operate only during the day, from 6am until midnight.
At night, you can take the N22 bus from the airport to the city centre, and to Leith, operating between 0.00-4.15am. As this is not a designated airport bus, you will pay the same as the other night buses (£3), and it is not an express route, so your journey will take longer than the other services.
For alternative methods of transportation to and from the airport, please see Getting to and from Edinburgh Airport.