From the Princes Street stops, you can easily access The Royal Mile, the Old Town, the New Town, and most of the city's central hotels and hostels.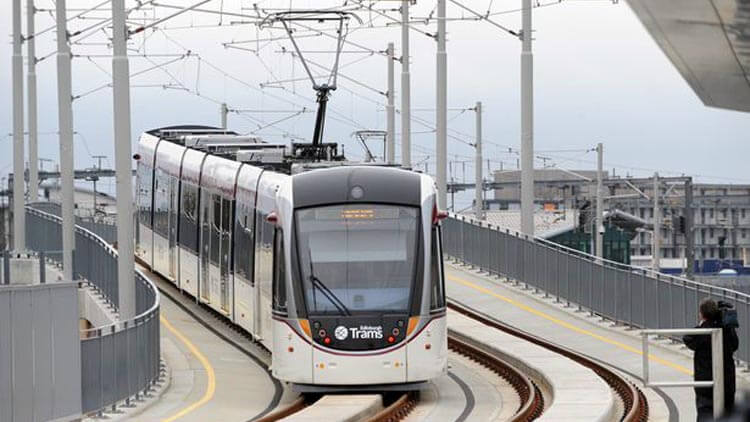 The tram line is about 14km in length, and it will take you around 30 minutes to travel its whole route.
Timetable
The first tram leaves the city centre at 5.30am every day, and the first departing from the airport leaves at 6.15am.
You can catch the tram every ten minutes before 7am, every seven minutes between 7am and 7pm, and every ten minutes again after 7pm.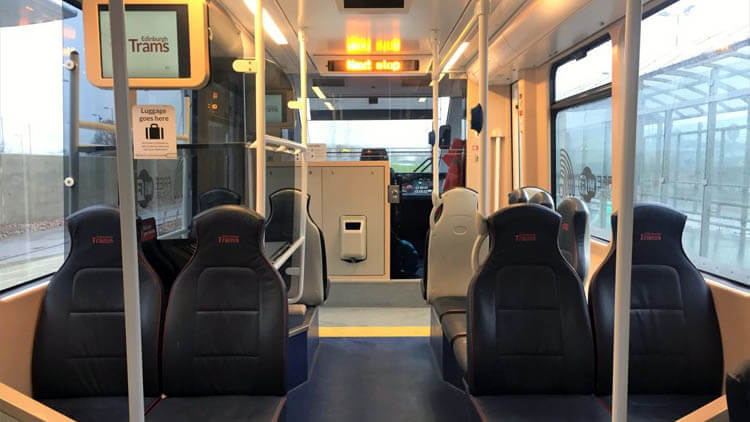 The last tram of the day from the city centre is at 11.30 pm, and the last leaving from the airport is at 10.48pm. You will still find services leaving the airport after this time, however they terminate at Edinburgh Gateway, which is still quite far from the city centre, so you are advised to use alternative transportation if you are arriving late at night.
For alternative methods of transportation to and from the airport, please see Getting to and from Edinburgh Airport.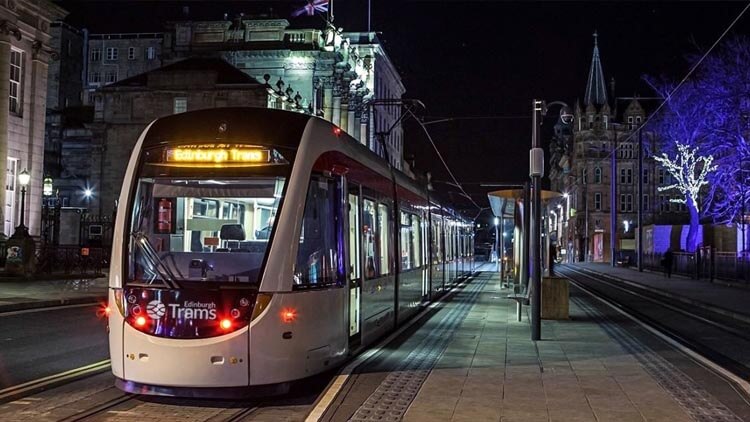 Buying tickets
All tram stops in Edinburgh have ticket machines in the platform, where you can buy single, return or day tickets.
You should pay with the exact fare if possible, as the machines don't give back change, and they accept 5p, 10p, 20p, 50p, £1 and £2 coins. Transactions of more than £3 can be paid by card.
You can also purchase tickets in advance online or using the Transport for Edinburgh mobile app.
You must use your tickets within 30 minutes of purchase, validation of a smartcard pass, or activation on the app.
If you board the tram without a ticket, you can still buy one from the conductor, but you will have to pay the £10 on-board fee, so it's best to remember to pre-purchase your tickets.
Tariffs
Single ticket
Adult: £1.80 city zone / £6.50 airport
Child (5-15 years): £0.90 city zone / £3.30 airport
Return tickets
*Valid only on the same day, except airport returns
Adult: £3.40 city zone / £9 airport
Child (5-15 years): £1.80 city zone / £4.80 airport
Day ticket
*Also valid on Lothian Bus services
Adult: £4.50 city zone / £10 airport
Child (5-15 years): £2.20 city zone / £5 airport
Family Day ticket
*Valid on Lothian buses
Up to 2 adults and 3 children: £9.50 / £22.50 airport
Day & Night ticket
*Valid 6pm-4.30am, including Lothian buses but not airport journeys
Adult: £4