Enjoy one of the The Royal Family's Official Residences in Scotland
The Queen normally spends a week here every summer, when the palace is closed to the public, but you may catch a glimpse of her around the city on official visits.
If you've visited Edinburgh Castle already, you can imagine how harsh the weather is on top of Castle Rock, so you can see why King James IV decided to build Holyrood as his new home, during the 16th century, in its more sheltered location!
You can travel between these two royal residences by following the street connecting them, which is a Scots mile (1800m) long, hence its name; the Royal Mile.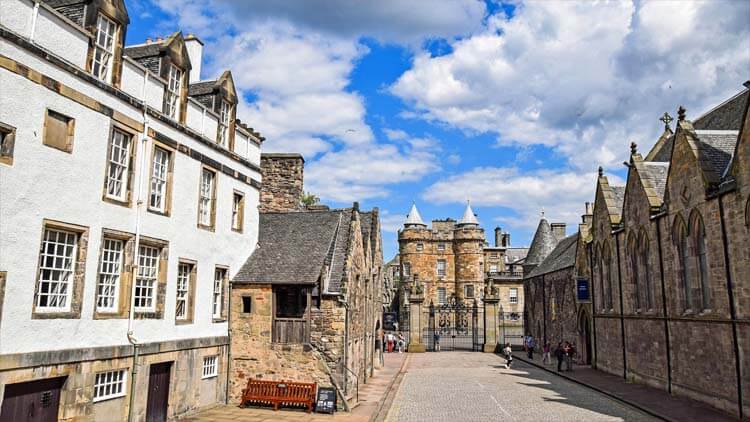 Inside the palace
You can see many beautiful, and historically significant rooms inside Holyrood Palace. Admire the carefully preserved, original furniture in the State Apartments, where the Royals lived.
Imagine the official receptions and events that still take place in the Throne Room. Explore the chambers of Mary Queen of Scots, one of Scotland's most famous monarchs, where she lived between 1561 and 1567.
Useful Information
Opening hours:
Nov-Mar 9.30am-4.30pm
Apr-Oct 9.30am-6pm
Entry prices (includes audio guide): £14 adults / £12.70 seniors & students / £8.10 children & disabled / Free for under 5s
Don't miss the Great Gallery too, where portraits of real and legendary Scottish monarchs are exhibited, starting from Fergus I, who is believed to have founded the nation of Scotland.
Look out for other famous rulers, including Macbeth, whom the Shakespearean play was based on; Robert the Bruce, the hero of the Wars of Independence; and the members of the Stuart dynasty, who ruled for over 300 years, eventually becoming the English monarchs as well.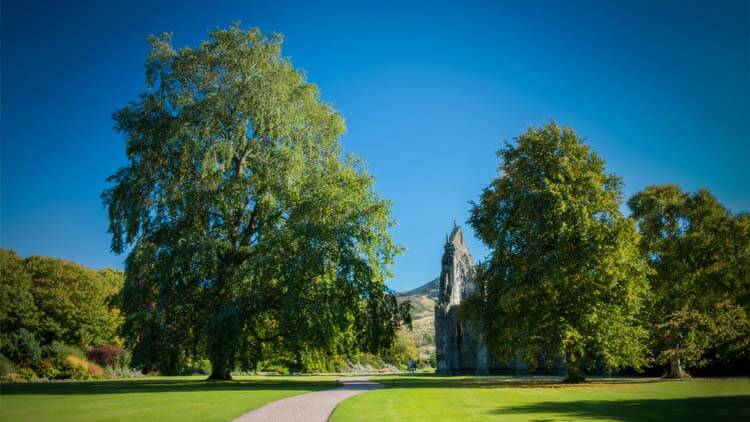 The palace grounds
Your visit to the palace also includes access to the beautiful gardens at the back of the building, with stunning views of Holyrood Park beyond. This is where the Queen hosts the Garden Party at the beginning of each summer, where members of the public get to mix with the Royal Family.
You can also see the ruins of Holyrood Abbey, dating from the 12th century, where Royal coronations, baptisms, weddings, and burials took place for hundreds of years. It was replaced as the parish church for Holyrood in 1691, when Canongate Kirk was built, slightly further up the Royal Mile.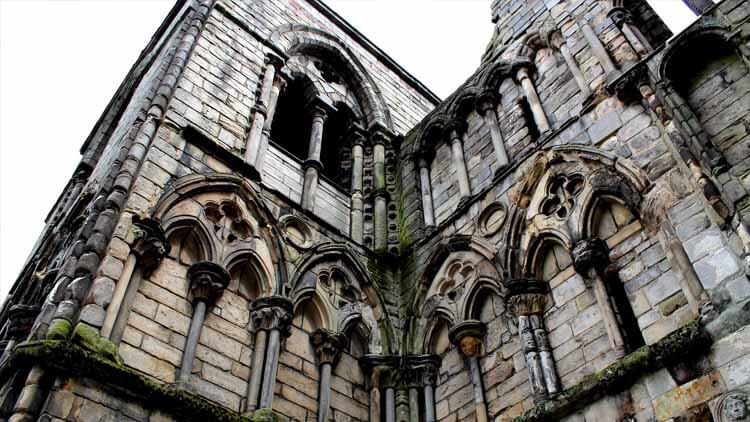 Location
You can find Holyrood Palace at the lower end of the Royal Mile, opposite the Scottish Parliament building, and next to Holyrood Park. You must pass by the ticket office and gift shop first, before entering the main gates.
Get directions to Holyrood Palace.