A monument to a great writer
Sir Walter Scott has been one of Scotland's most famous writers and this is the tallest monument to a writer all around the entire world, standing 61m (200ft) tall!
This is especially fitting, given that Edinburgh is a UNESCO City of Literature, having been home to many notable writers, such Scott, Burns, Stevenson, Conan Doyle and many more!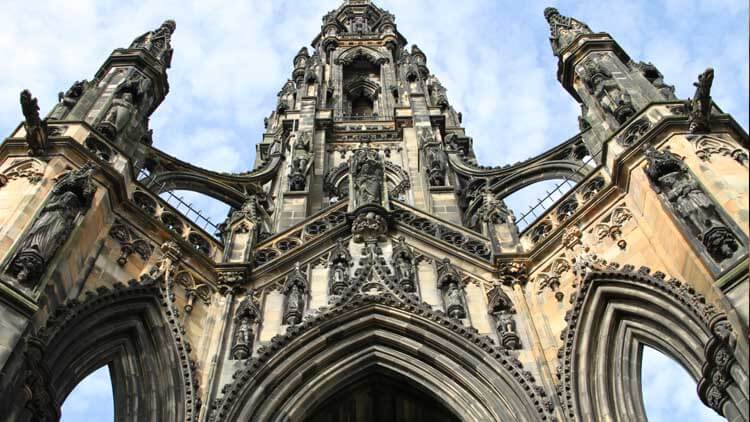 Panoramic city views
With its staggering height, you can also enjoy sweeping views over Edinburgh from the top of the monument. You have to climb the narrow stairs to reach the top, all 288 of them, but the ascent is worth it if you can manage it!
Learn about Scott's life and works
Inside the monument, you can visit the Museum Room, which has an exhibition on Scott's life and legacy. He is credited as having invented historic romance novels, which he wrote several of in the 18th and 19th centuries.
He wrote primarily in the Scots language, so you not be familiar with his works, but some of his most popular novels include Ivanhoe, Rob Roy, The Heart of Midlothian, and Waverley, the latter of which gave name to Edinburgh's central train station!
For anyone who is a fan of Scott, or wishes to learn more about him, you might like to visit the Writer's Museum, found in Makar's Court near the Royal Mile, or travel south to the Scottish Borders, where you can visit his former home, Abbotsford House, near Melrose.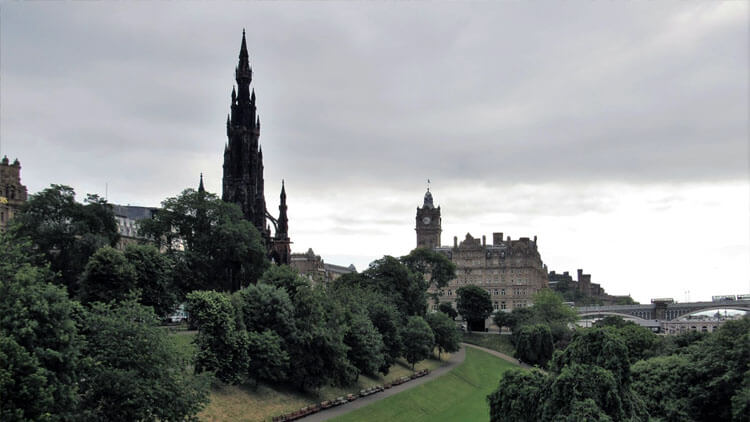 Architecture & sculpture
If you don't get into the monument, you should at least take a moment to admire the architecture of the monument itself.
The spire is Victorian Gothic design, and features 68 small figurative statues on its sides, modelled after other Scottish writers, and characters from Scott's novels.
In the base of the monument, you can see a large statue of Scott himself, with his beloved dog, Maida, fashioned from a single piece of marble.
If you have the time and the energy to climb the tower, the Scott Monument will give you an excellent view of the Old Town from a different perspective.
Useful Information
Opening hours:
Every day
10am-4pm in winter
10am-7pm in summer
Entry price:
Adult £8.00
Concession (OAP / Child / Student) £6.00
Location
You can see the monument easily from anywhere in Edinburgh's New Town. It is located in Princes Street Gardens, close to Waverley train station.
Get directions to the Scott Monument.