Scotland's devolved parliament
When visiting the UK, you might be surprised to discover that Scotland has its own parliament in Edinburgh, separate to the British parliament in Westminster.
This is because in 1997, a referendum was held asking the Scots if they wanted a devolved parliament, allowing them autonomy over certain political decisions, and they voted yes!
Useful Information
Opening hours:
Mon-Sat 9am-5pm
Entry price:
Free
Scotland used to have its own parliament, until the Act of Union in 1707 merged it with England's.
The old building is in Parliament Square, off The Royal Mile, and you can still visit the debating chamber inside, but it now houses the Supreme Courts, so a new building was commissioned after the 1997 referendum.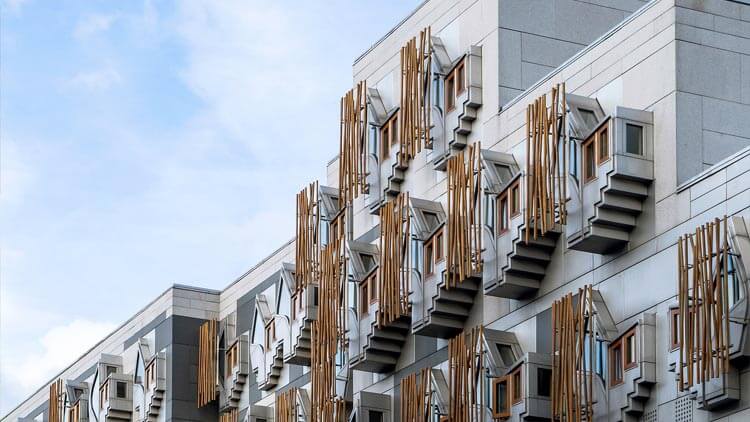 Modern architecture
If you're a fan of modern architecture, you will be fascinated by the building, which is actually a complex of connected spaces, whose shapes and forms were inspired by traditional elements of Scotland, but come together to create a contemporary design.
It was designed by architect Enric Miralles, who sadly passed away before he could see his plans completed. It was rather controversial when it was approved, as the modern style doesn't fit in with the rest of Edinburgh's Old Town, but it has also won several awards for its design!
It's also interesting to note that for several years, the new Scottish Parliament held their debates in the General Assembly Room, in New College on the Mound, while waiting for the new building to be completed.
It ended up being finished 3 years late, and cost ten times its initial budget, a grand total of £400 million.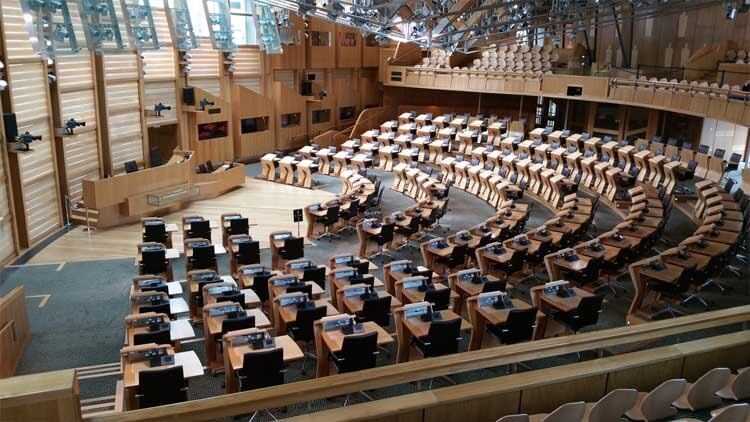 Visiting the new building
As well as admiring its unusual exterior, you can also go inside the parliament, and visit the main rooms of the building.
The highlight is the debating chamber, which you can see empty on days when there are no sessions, or you can go along to attend a debate yourself, which take place on Tuesdays, Wednesdays, and Thursdays.
You can also sign up online for a free guided tour of the building, which covers both the architecture of the building, and the history and work of the Parliament itself, or one of their special interests tours.
The parliament building also hosts cultural events and exhibitions throughout the year - check out their website to book a tour, and for details of upcoming events.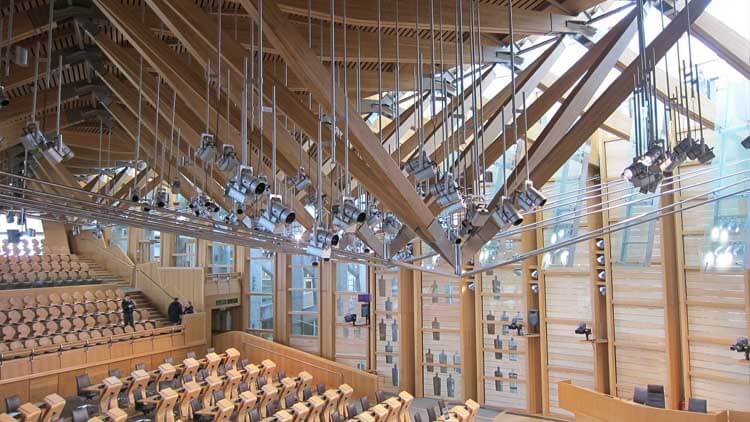 If you want to know more about Scottish politics and specially if you are an architecture lover, you should pay a visit to Scottish Parliament. On top, you will be able to visit other interesting places around, like the Palace of Holyrood.
Location
You can find the new parliament building the at lower end of the Royal Mile, on the Canongate section, opposite Holyrood Palace and next to Holyrood Park.
Get directions to the Scottish Parliament.