Discover the story of Scotland
You can browse exhibitions on all sorts of topics in the main building, or take a journey through Scotland's history in the newer Museum of Scotland building.
Uncover the secrets and stories of Scotland in the more modern building at the west end of the museum. Start on the ground floor with the prehistory and geology of the country, and travel through time to the present as you ascend the floors.
Among the items on display, you can admire the Monymusk Reliquary, a small box carried into the Battle of Bannockburn by Robert the Bruce. Marvel at the ancient chess set from the Isle of Lewis, made from walrus ivory in the 12th century. Imagine the horror of an execution carried out by The Maiden, a 16th century guillotine.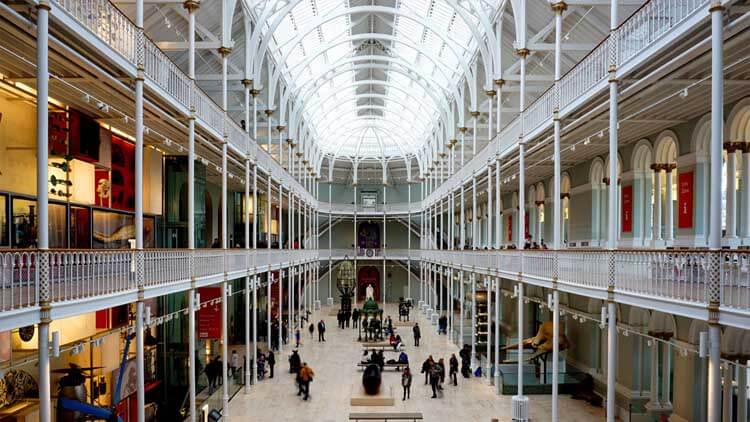 Fascinating exhibitions
As well as Scottish history, you can learn about many other topics in the main building of the National Museum. Enter the Grand Gallery, with its stunning glass atrium and cases of artefacts, and begin your journey up through its balconies.
See dinosaur skeletons and learn about evolution in the Natural World exhibition. Admire clothing and possessions from around the globe in the World Cultures galleries.
Discover fashion from throughout the centuries in the Art, Design and Fashion galleries. Try your hand at driving a race car or launching a rocket in the Science Technology exhibition.
You should also check out the temporary exhibition space, which hosts new displays every few months.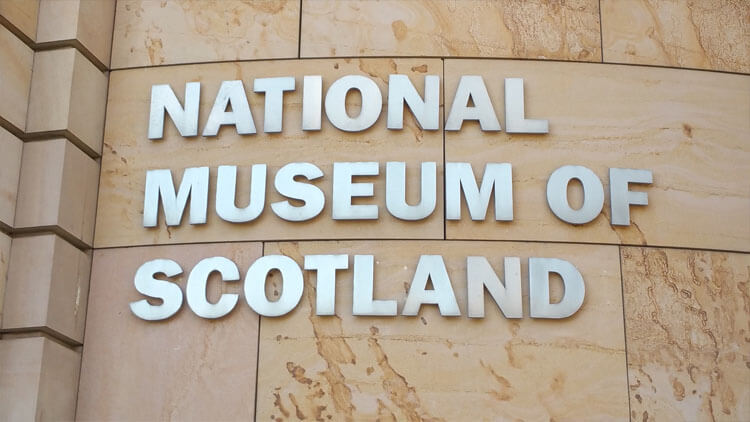 Space to take a break
If you'd like to take a pause while exploring the galleries, head up to the roof of the National Museum, on the 7th floor of the Museum of Scotland building.
Here, you'll find a peaceful terrace space, decorated with sculptures and flowers, where you can admire one of the best views of Edinburgh's Old Town area.
The Museum also has a cafe in the Great Gallery, and a brasserie restaurant on the basement level, so you have plenty of places to have a break.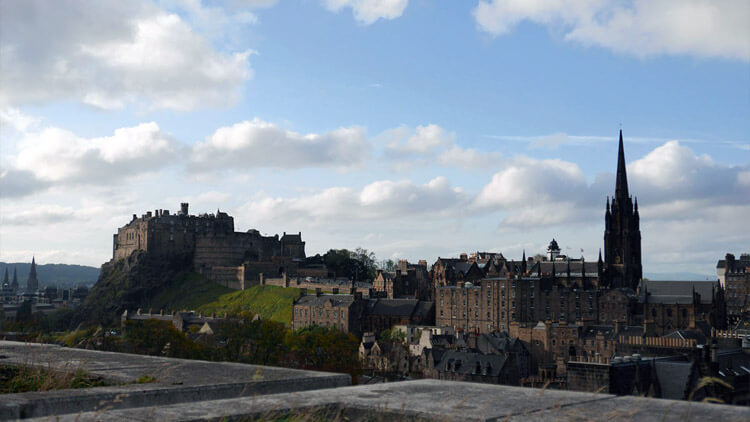 How long you spend discovering its large collection will depend on the time you have, but definitely, you can't miss at least a quick view to the National Museum of Scotland when visiting Edinburgh.
Useful Information
Opening hours:
Daily, 10am-5pm
Entry:
Free, donations welcome
Location
You will find the National Museum of Scotland on Chambers Street, parallel to the Royal Mile, and opposite Greyfriars Kirkyard. Enter through the basement level of the main building.
Get directions to the National Museum of Scotland.