Origins of the Highland Tolbooth Kirk
You can find the Highland Tolbooth Kirk, now renamed The Hub, at the intersection of Lawnmarket and Castlehill, near the top of the Royal Mile.
It was formerly a Church of Scotland building, and remains one of the most characteristic buildings of Edinburgh, with its silhouette visible from all around the Old Town.
The building was designed in the Neo-Gothic style, and was a collaboration between the Scottish architect James Gillespie Graham, and the English architect Augustus Pugin.
It is constructed from dark coloured sandstone, which will make it seem to you older than its true age; it was built between 1842 and 1845. Its spire is the highest point in Edinburgh, standing at 72m high.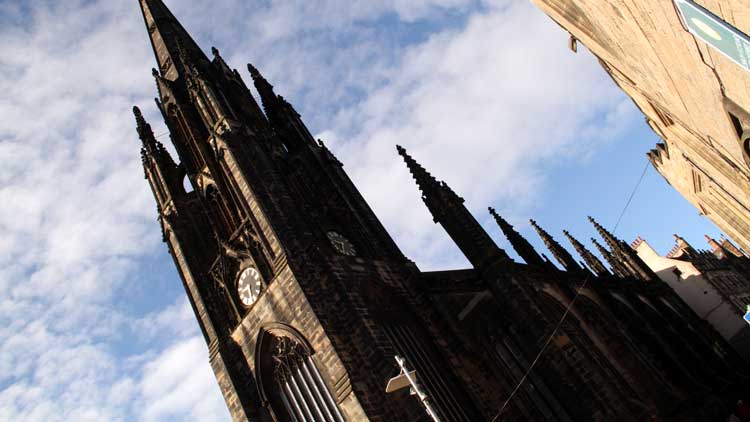 Transformation into The Hub
Despite its appearance and name, it has never actually been consecrated as a church, because the Church of Scotland had it built to function as the meeting place of the General Assembly.
They met here for the last time in 1929, when they moved to the new Assembly Hall, located on the Mound. The building was then used by various congregations until 1979, when they united with the congregation of Greyfriars Kirk, and the building was closed. It was converted and reopened as The Hub in 1999.
You will find the interior has been completely remodelled to become The Hub, and is now a multifunctional space, where many different events are held.
It is also the location of the ticket office and information centre fo the Edinburgh International Festival (not to be confused with the Festival Fringe), which takes place in the second half of August every year. There is also a cafe and restaurant inside!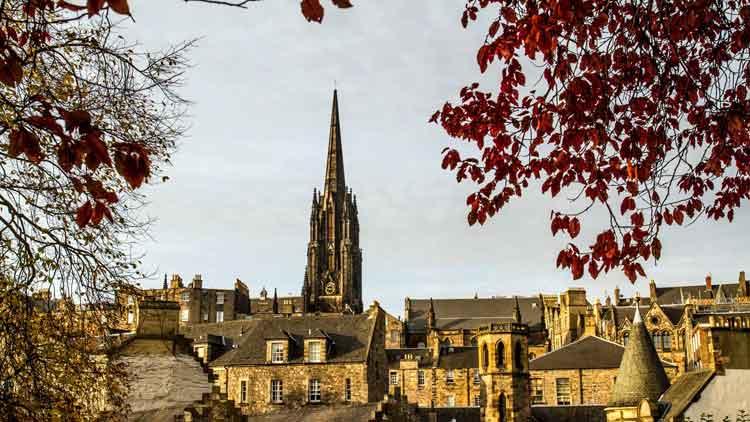 Before the construction of the new Scottish Parliament building, at the lower end of the Royal Mile, opposite Holyrood Palace, parliamentary sessions were usually held in the Assembly Hall, between 1999 and 2004, but were also occasionally hosted by The Hub as well.
In 2006, after the collapse of a beam in the debating chamber, Scottish Parliament returned to The Hub for a period of two weeks.
Useful Information
Opening hours:
Daily, 9.30am-7pm
Entry:
Free
Location
You will find The Hub at the top of the Royal Mile, at the intersection between the Lawnmarket and Castle Hill.
Get directions to The Hub.